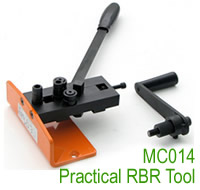 Triple actions hand operated tools for riveting, bending and rolling metal strip.

By combining 3 functions into 1, this highly versatile, hand-powered range of tools form the cornerstone of the Metalcraft Practical and Master workshops.

Riveting provides a quick, safe and easy way of joining metal strip and scroll work together, without the need for an electrical power source. The finished job gives an authentic and traditional appearance.

The Bending function is a useful tool for shaping all manner of components out of flat strip, square bar and round wire in a production environment. This makes it an essential tool in producing frameworks etc, for decorative work.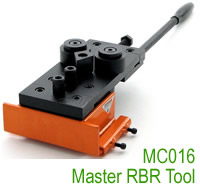 Finally, the Rolling facility enables circles and arcs of varying radii to be easily and consistently rolled without the need for pre-heating of the materials.

To Weld or not to Weld!
Metalcraft's riveting system provides a safe, strong and authentic way of joining metalwork together for beginner and professional alike. Naturally, those with welding equipment may prefer to use this as a quick and convenient way to join formed metalwork together particularly in commercial use. It is no surprise that those able to weld easily spot the business diversification opportunities that Metalcraft tools offer.




Easy to Use


No pre-heating of metal required when riveting, bending or rolling.



Riveting is simply achieved by placing the materials to be joined (with rivet in pre punched hole) between the riveting posts on the machine. Use the lever to squeeze up the rivet to form a strong joint.



For the bending operation, material is placed between the square or diamond shaped former and the side rollers. Operate the lever to gradually bend to required angle.



Rolling is achieved by using the winding handle to drive the bar forwards and backwards through the rollers. As this is done with each pass, the long lever is used to gradually increase pressure to roll and ever tighter curve.
SPECIFICATIONS

MAX. WORKING CAPACITY

MAX. ANGLE BEND

DIMENSIONS

OTHER FEATURES

MC014
Practical
Riveting / Bending / Rolling Tool



Riveting - 3mm dia rivet
Bending - 20mm x 3mm (flat strip), 5mm (round), 4mm (square bar)
Rolling - 20mm x 3mm (flat strip), 5mm (round), 4mm (square bar)
180° to 90°
165mm (w) x 150mm (d) x 60mm (h) x 300mm handle length.

Boxed weight 3.0Kg
End stop screw and nut fitted for producing consistent bends and circles/arcs when rolling
MC016
Master
Riveting / Bending / Rolling Tool


Riveting - 5mm dia rivet
Bending - 25mm x 5mm (flat strip), 10mm (round), 10mm (square bar)
Rolling - 25mm x 6mm or 30mm x 5mm (flat strip), 10mm (round), 10mm (square bar)
180° to 60°
165mm (w) x 290mm (d) x 115mm (h) x 440mm handle length.

Boxed weight 11.0Kg
End stop screw fitted for producing consistent bends and circles/arcs when rolling