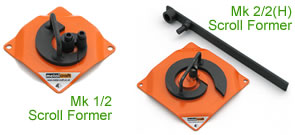 SERIES 2
Hand Drawn

Hand operated tools for producing decorative scrolls from metal strips.

Traditional craftsmanship in your hands.



Easy to Use
Produces flat consistent scrolls
No pre-heating of metal required
Ideal entry level (low cost) scroll formers
Ensure you have ample work space around the tool to wrap longer lengths.

End of metal strip is placed between two central rollers and is gripped by adjusting moveable rollers, slotted centre pin of Mk 2/2H.


Metal strip is drawn around centre segment to produce initial part of scroll. If using Mk 2/2(H) former with heavier gauge material the special starting lever supplied with this tool helps to form the initial curve of the scroll.


Depending on the size of scroll required, metal strip is drawn around further and the additional segment dropped in as required. for consistency when producing repeated scrrolls we have magnetic markers to mark the scroll end point on the segment. When complete remove the additional segment and release scroll from centre.
SPECS

MAX. WORKING CAPACITY

MAX. SCROLL SIZE

DIMENSIONS

OTHER FEATURES

Mk 1/2


1/2" x 14G
(13mm x 2mm)
3" (76mm)
100W x 100D x 45H Boxed weight: 1kg
Mk 2/2 (H)


20mm x 3mm
5" (127mm)
150W x 150D x 45H
Boxed weight: 1.5kg
Supplied with special starting lever to form initial part of scroll when using heavier gauge material.

SERIES 3
Capstan Operated

Our series 3 scroll formers are designed to produce great looking and consistent shaped scrolls every time.

The Mk 2/3 scroll former produces very similar scrolls to the Mk 2/2(H) but its capstan operation overcomes the need for lots of clear bench spave around the 2 Series formers.

The Mk 3/3 is a step up from the Mk 2/3 as it produces larger scale scrolls from larger material sizes (in line with the Master Range of tools).

The Mk 3/4 scroll former produces slightly larger scrolls and can work heavier gauge metal making it ideal for industrial clients.

Main features of these include:
Rapid locking system for holding bars and releasing completed scrolls
Interchangeable segments enable various scroll profiles to be formed (Mk 3/3 and Mk 3/4)
Can scroll metal with fish tailed ends (Mk 3/3 and Mk 3/4)
Handle extension for delivering greater power (Mk 3/4)
Supplied with scroll former templates and magnetic markers for repeatable scrolls
| | | |
| --- | --- | --- |
| | | |
| Mk 2/3 Scroll Former MCO29 | Mk 3/3 Scroll Former MC022 | Mk 3/4 Scroll Former MC025 |

Mk 2/3, Mk 3/3 & Mk 3/4

Easy-to-use



For DIY and professional use

Locate end of steel bar into centre of tool and using locking bar (Mk 2/3 and Mk 3/3) or gripping teeth (Mk 3/4) to grip the end of steel bar. Make sure the steel bar rests on the base plate and is to the right of the the pressure roller. Before rotating handles clockwise to start scroll make sure pressure roller is set to the correct height for the width of bar being scrolled.


Roate handles clockwise. As the handles are rotated, segments of the scroll former close up to form scroll. Keep rotating until desired shape and size achieved and if you wish to repeat the scroll exactly, use magnetic markers supplied to mark where the end of the scroll finishes making contact with the scroll formers segment.


When complete, unlock central gripping system and lift handle and adjoining segments to release scroll.


The Mk 3/3 and Mk 3/4 Scroll Formers have the additional versatility of being able to produce a range of different scroll shapes and sizes because of the interchageable hinged segments.

Additionally, both scroll formers can work with bars with tapered (fish tailed) ends.
SPECS

MAX. WORKING CAPACITY

MAX. SCROLL SIZE

DIMENSIONS

OTHER FEATURES

Mk 2/3


20mm x 3mm
5" (127mm)
150W x 230D x 120H x 210 Handle radius
Boxed weight: 2.9kg
Tube Bending
Components included as standard
Mk 3/3


25mm x 5mm (flat strip)
10mm (round bar)
10mm (square bar)
8 1/4" (210mm)
360W x 320D x 160H x 460 Handle radius
Boxed weight: 13.8kg
Tube Bending Components included as standard
Mk 3/4


50mm x 6mm to 25mm x 10mm (flat strip)
14mm (square bar) - 16mm if bar heated
14mm dia (round bar) - 16mm if bar heated
10 1/4" (265mm)
365W x 360D x 180H x 530 Handle radius (extendable to 910)
Boxed weight: 22.8kg
Optional Tube Bending Components available POA
*The maximum scroll size quoted is approxiamate due to the varying temper (spring) of steel.